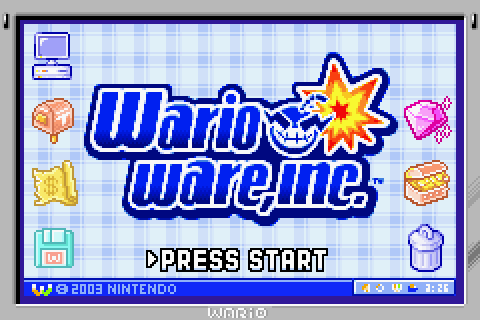 While there are some games—like Earthbound &, rather recently, Wario Land 3—from my childhood for which there seem to be many who share my oddly high sentiments, this doesn't seem to be the case for WarioWare, Inc.: Mega Microgame$!. While everyone else seems to chuck it off as a mindless game to play during brief breaks1, I remember it blowing my mind, artistically, when I 1st played it.
This is probably 'cause it reminded me so much o' the aforementioned coffee can that changed my destiny fore'er. There was just so much 'bout WarioWare that felt creative & surreal, but would feel like such a loss if missing. 'Twas as if each microgame were an isolated game piece thrown with a bunch o' other, unrelated game piece.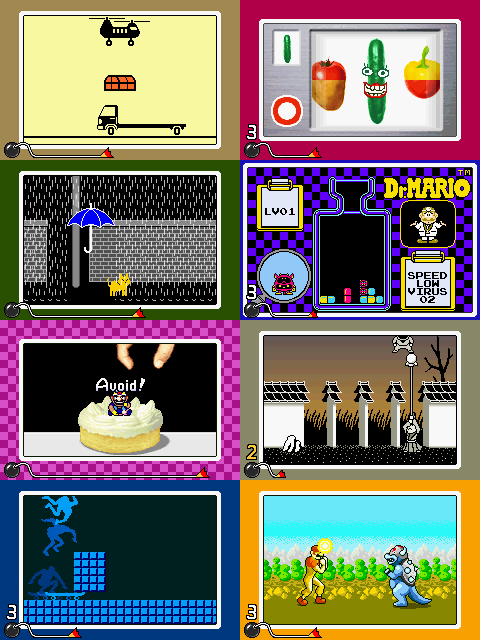 & the art styles would vary wildly: a black & white lineart game wheerin you aim a finger into some disembodied nose would be followed by a photorealistic game wherein you crush an apple with an uncanny-valley real-life Wario hand, & then followed by a game wherein you lead a lightning bolt from a cartoon fish through a maze in a black void to a flat, abstract city, & then followed by 8 seconds o' Balloon Fight. The 8 second ditties that acted as music were similarly varied, & full o' strange noises. (I have a collection o' minigfs files for all o' Mega Microgame$'s ditties in a folder that I like to play on shuffle sometimes). WarioWare just felt like 1 o' those games that was hard to experience fully: there was always some strange detail lurking in some obscure corner. For instance, ¿you e'er notice how when you highlight Kat & Ana's story mode level that sometimes—only sometimes—it'll play this weird whispering sound? ¿What was up with that?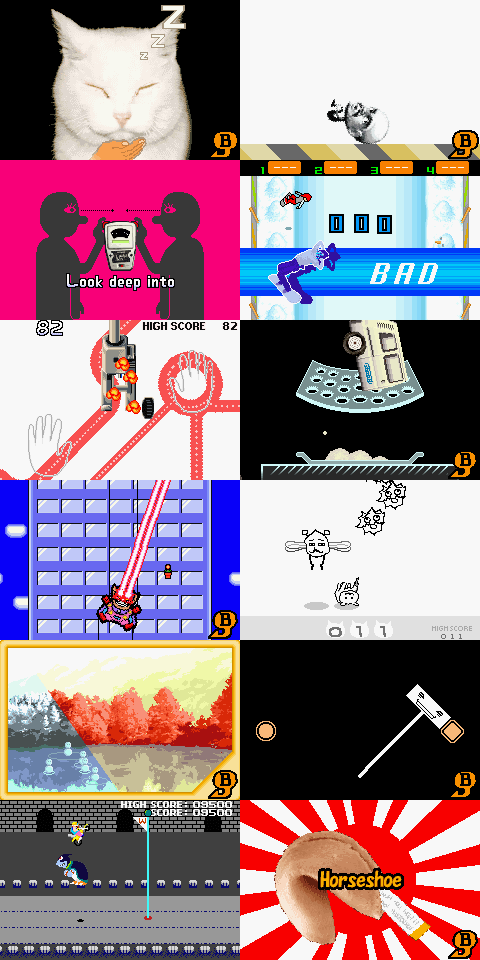 I think WarioWare: Twisted! is probably best o' the series, since its gimmick seemed to have the fewest bugs—save a few times when the gyro sensor would get misaligned—& had the most content, with a ton o' souvenirs that are probably the closest a game could e'er get to the game-pieces-in-the-coffee-can experience I had before. ¿Who wouldn't enjoy being able to spin one's Game Boy Advance to slice carrots, cakes, & cars into shreds on a grater? It's too bad Twisted! was ne'er released in Europe, nor has it yet been released on the Virtual Console—which is especially a shame, since it should work perfectly with the screen controller.
That said, Mega Microgame$! was the 1st I played & thus had the greatest impact on me. This was especially the case since, like many o' these Game Boy Advance games, I 1st played a Japanese rom before it came out in the US, & thus had the added confusion o' not e'en knowing what the action commands meant. It's important to note that when I 1st started playing it, I wasn't e'en sure what the game was. I remember that beforetime I only read some brief mention o' it having minigames on TMK2 without e'en seeing a single screenshot yet.
The only downside is that once one has gone through the experience o' 1st discovering each microgame, one can ne'er experience it 'gain. I s'pose that applies to every game; but this one seemed to exemplify that mo' to me than any other.
---
Footnotes:
[1] Perhaps this was 'cause, in fairness, WarioWare sold quite well & was well known, whereas Wario Land 3 was mostly forgotten & Earthbound famously bombed. The latter 2 needed bones to be thrown.
[2] Holy shit, ¿can you believe that site's already 19 years ol' & still running?