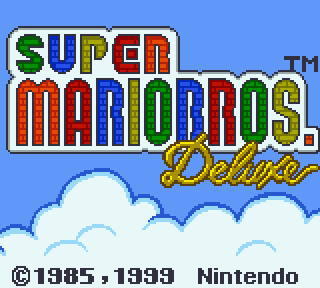 This may have been the 1st game I owned, as opposed to the 1st game I played, a family-owned game, ( Super Mario World ), 'long with Pokémon Silver with my new Game Boy Color back when I turned 9.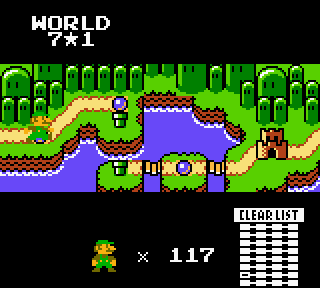 @ the time I was surprised & somewhat disappointed. I think I remembered my older brother saying 'twas like Super Mario All-Stars, a game we had but somehow lost, but it turned out to just be a remake o' the 1st Super Mario Bros. — what a philistine younger me considered to be the weakest o' the ol' Mario games, since it's much mo' limited in powerups, didn't have any kind o' map screen like Super Mario Bros. 3 or Super Mario World had ( Super Mario Bros. Deluxe does, but it's just for aesthetics & showing score requirements for Challenge Mode levels ), didn't have spin jumps, didn't let you revisit beaten levels, & didn't e'en let you go backward in levels. So, basically, young me wasn't thrilled 'cause 'twas hard & I sucked @ video games & I preferred the hand-holding o' Super Mario World &, to a lesser extent, Super Mario Bros. 3.
I did warm up to it though, leaving me with the nostalgia I have now. I also somehow not only beat the classic mode, but also Lost Levels — or as they called it, "Super Mario Bros. for Super Players". Granted, this game let you save & resume from game o'er on every level, so 'twas much easier than the NES / Famicom originals.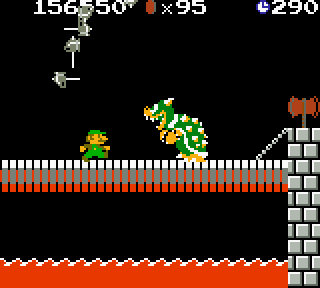 This was also the 1st time I saw the original NES version's graphics, or graphics very similar. I remember how, um, less impressed I was with how Bowser looked in the originals. If Bowser sounded funny 'cause he had a cold in Super Mario Sunshine, he must've looked funny in the original Super Mario Bros. 'cause his face got in a car accident.
Now I've somehow gotten better @ this game to the point that I can 100% it & e'en beat classic mode without getting game o'er.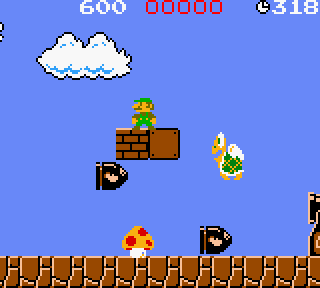 Indeed, the mo' I play it, the mo' impressed I am @ how well this classic game holds up, e'en if it didn't have Deluxe's trinkets & doodads — proof that truly good games stay good for eternity. Sure, levels are mo' oft just flat land with a bunch o' enemies than later Mario games; but we could already see cleverness in the enemy designs, such as the Koopas that could be both a weapon & a risk if you stomped them. In particular, the way later levels combined enemies created an interesting kind o' difficulty impossible to realize with enemies 'lone: hopping Koopas become much harder to maneuver round when you have to time your jumps or dodges with randomly-generated Bullet Bills.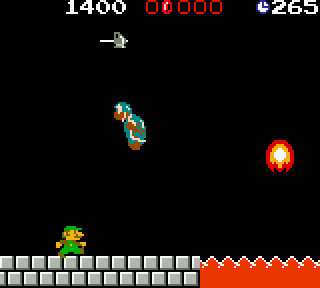 & then you have Hammer Bros., which are unquestionably the hardest enemies, but are interesting if you get to understand how they work. I remember years ago when I 1st learned how to rather consistently get past them in 8-4 by counting to 6 or 7 & then running toward them — which is right when they should start jumping. The only trick here is if the hammers they throw are in a bad position, which may force you to hop 'tween some 'fore running past them. 'Nother, riskier, strategy is to stay near in front o' them so that their hammers go o'er your head, making sure to keep distance so that they don't move to close & kill you with their touch poison that all video game enemies seem to have.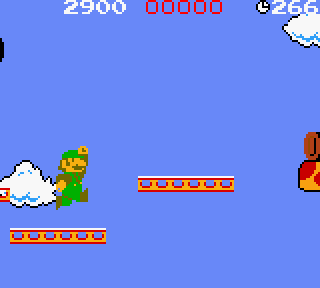 Mo' importantly, the original Super Mario Bros. has 1 strength that none o' its children have: it's consistently fast-paced. You almost ne'er have to stop throughout the entire level, & times when you might are caused by an enemy being in an unfortunate place ( usually in the underwater levels, which have some o' the worst physics & where every enemy moves randomly ). Contrast that with e'en Super Mario Bros. 3 & Super Mario World, great exploration games that are, unfortunately, infected with far too many tedious autoscrollers ( fun fact: 1 is too many autoscrollers ). Honestly, Super Mario Bros. is probably the only good action / challenge platformer Mario game 'cause o' this. ( Super Mario Bros. 3, Super Mario World, Yoshi's Island, the Super Mario Land & the Wario Land don't games count: they're exploration games that focused on puzzle solving & collecting & are baby-easy. Super Mario 64 had the distinction o' being both fast & an exploration game that was baby-easy, so it's e'en better ). This is probably why Nintendo's attempt to flirt with challenging gameplay 'gain in the New Super Mario Bros. & Super Mario Galaxy games was so awful: it just gave you the slowness o' Super Mario World, but made you go through it multiple times if you happened to die. Well, that & 'cause New Super Mario Bros.'s idea o' "challenge" is making me beat a ghost house 'gain whenever I want to save — something much harder games like Super Meat Boy didn't devolve into 'cause that game was actually designed by people who gave a shit.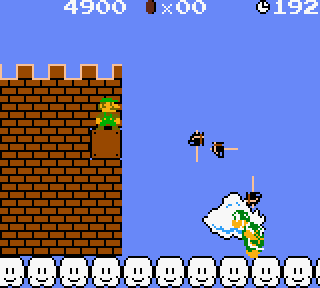 Though Lost Levels has questionable level design decisions, I like how e'en in its 8-3 they put clever ways to help get past Hammer Bros. in the form o' bricks camouflaging gainst brick walls that you can stand on to get clearer height o'er the ground-bound Hammer Bros. ( only to later force you to get through 2 Hammer Bros. without any helpful blocks ).
People oft pump up 8-4 as the ultimate challenge 'cause it's the last level, but it actually might be 1 o' the easiest world 8 levels, 'cept for maybe 8-1. Other than maybe figuring out the maze through trial & error, — a much simpler & easier maze than any o' the earlier castle mazes, too — it doesn't truly get hard till the Hammer Bro & Bowser @ the end. Then 'gain, none o' the castle levels are as hard as most o' the noncastle levels.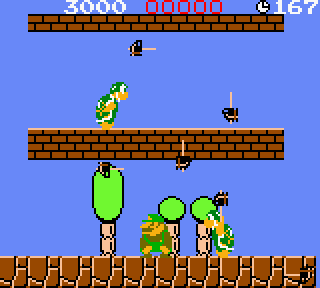 8-3 has an interesting dynamic to its difficulty: it's oft considered the next contender for hardest level, & it's certainly harder than 8-4, but it offers plenty o' powerups — but only if you take the time to find them in the many bricks surrounded by Hammer Bros. This leaves players with 2 possible strategies: take the harder route o' fighting off Hammer Bros. to earn a powerup to make later parts easier or rush through & skip the powerups. If you weather the 1st 2 pairs o' Hammer Bros., you can get a fire flower, making the rest o' the Hammer Bros. trivial — & thus the rest o' the level. These 2 pairs are easier than the later ones, since they have brick floors you can bump them under, while the others are on the ground, their hammers right in your face & their heads constantly guarded by hammers. Thus, the powerups make the level much easier: when I discovered them, which was surprisingly late, I found the level became much easier. In general, Super Mario Bros. is great @ rewarding taking the time to explore by making things easier while using the natural reward that is the thrill o' going quickly to seduce mo' skilled players to go mo' quickly. Only the Donkey Kong Country games seem to do as well ( & e'en then, only maybe 75% o' the time ) @ giving players both exploration & speed by giving players a lot o' control o'er how quickly they want to move.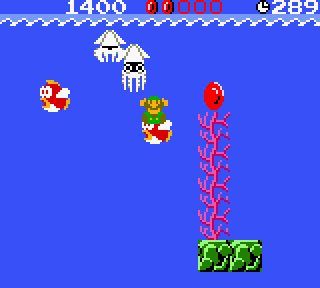 If anything, it's the water levels that are the worst. Water levels are always infamous in video games, but I can't think o' any that are worse than the original Super Mario Bros.'s. Everything feels out o' control: Mario's movements feel inconsistent, 'specially when falling ( the fact that pits awkwardly change how fast Mario plummets doesn't help ). & all the enemies move randomly & can't be killed 'less you have a fire flower. E'en Hammer Bros. can be killed by hopping on them or hitting them from below.
You know, ¿why did they decide that landing on top o' an enemy in air should kill an enemy, but not underwater, & why does every platformer just copy this arbitrary rule? The fact that water levels oft cripple your abilities & make you move slowly is surely why water levels are so despised, e'en though water has the potential to make you mo' mobile by letting you move freely vertically, too. I'd like to see a platformer make you mo' powerful & have freer movement underwater so people actually prefer water levels — that would be a nice surprise for once.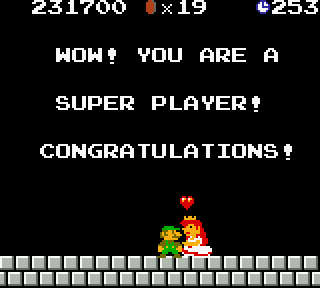 Super Mario Bros.'s reputation as a hard game always confused me. I don't mean the view that it's a hard game in general, or comparing it to later Mario games, which are certainly easier; but people act as if e'en for its time 'twas hard, which is certainly not true. For an NES game, Super Mario Bros. is strikingly easy. I can beat it without getting game o'er, whereas I can't beat a single Mega Man, Castlevania, or Ninja Gaiden game. Compared to 95% o' its contemporaries, Super Mario Bros. was a baby-easy game, as was every Mario game compared to its contemporaries. It's only nowadays that adult gamers with the selfishness o' young adults expect that Mario games, meant for all ages, should be made specially for 30-year-ol's with decades o' experience playing games.
Super Mario Bros. Deluxe was a particularly good remake in that it didn't just "improve" its graphics by making them mo' technologically advanced but with less heart ( looks @ 3DS Mario & Luigi: Superstar Saga ), but mainly adds to gameplay. You don't just get the classic Super Mario Bros., but also, as mentioned earlier, Lost Levels, as well as a photo album, a minigame where you race a Boo through levels with switch blocks1, a challenge mode, & a bunch o' random trinkets, such as a fortune-telling game & a bunch o' weird pictures you can print if you're 1 o' the probably 5% people who actually had the Game Boy Printer @ the time. Indeed, I was so impressed by Super Mario Bros. Deluxe's extras that I was disappointed by the later Super Mario Advance remakes, which didn't have nearly as much.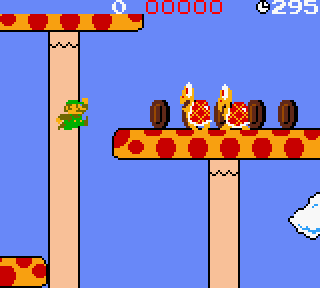 That's not to say that Deluxe didn't screw some things up. 1 flaw they couldn't help but have due to the hardware is the smaller screen, which made it harder to see what's round you, & thus harder in general. This is worsened by the fact that this is a straight remake, & thus the levels were made for the larger screen. To make up for this, the game lets you scroll the screen a li'l bit 'hind you, as opposed to the original NES game, which didn't let you scroll back @ all.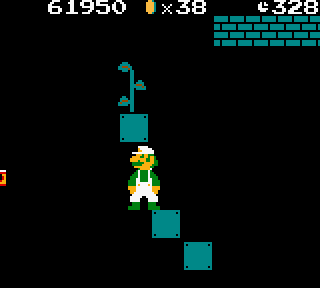 Though I wouldn't necessarily call it an unquestionable downgrade, the physics are slightly different from the original NES game's — though not as off as the All-Stars version's. I'd read a long time ago that Nintendo lost the original source code years ago, so they've been reprogramming the game in approximations each remake ( or emulating the original ); thus it's not too surprising that they couldn't get things perfect each time. Still, in some ways I think Deluxe's controls feel better, though that may be just 'cause I'm used to them. They feel tighter: Mario & Luigi don't feel like they go flying when you jump forward & you have greater control o'er your movement in air, making it easier to back up while in the air if you jump forward. Block collision also feels less janky: trying to fit big Mario or Luigi into a 2-block hole is surprisingly challenging in the original Super Mario Bros., making hitting the beanstalk block in World 4-2 much trickier to hit than in Deluxe.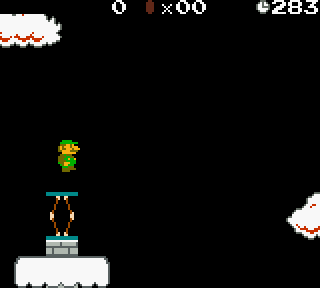 On the other hand, sprite hit detection feels better in the original than in Deluxe. Both have somewhat glitchy hit detection, but Deluxe more oft screws you o'er with it. Sometimes when landing on an enemy I would get forced into them & hurt. Springs are much mo' consistent in the original, making random deaths far less common, & mushrooms don't kill your jump if you jump into them, unlike in Deluxe. & the upside o' Mario & Luigi going flying forward faster when jumping is that you can move mo' quickly while speeding through levels, making Deluxe feel slightly slower.
But these are nitpicks that most players probably won't e'en notice.
Super Mario Bros. for Super Players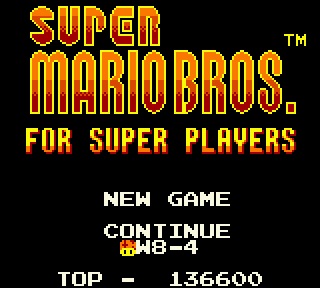 1 flaw that they could help was the fact that the included port o' Lost Levels is god awful — the worst there e'er was. Many critics bring up that it only has the 1st 8 worlds, no world 9 or A-D ( though partially-finished versions o' these levels are hidden in the cartridge, so they probably planned to make them but ran out o' time ). They might e'en bring up that the graphics are regular Super Mario Bros.'s, 'cept the Poison Mushroom, which is some weird new graphic with colors used nowhere else in this game, or that Luigi's physics are just like Mario's.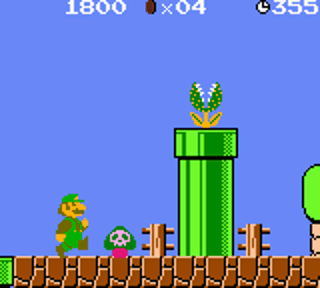 What they're less likely to bring up, but which is the absolute worst, is that there's no Koopa hopping. See, while people claim Lost Levels just just a "Mission Pack Sequel" to Super Mario Bros., it did actually have some difference in terms o' physics — foremost that 'twas the 1st to allow Mario & Luigi to hop off enemies, rather than bump ineffectively & fall like in the original ( indeed, landing on an enemy kills your momentum ). Deluxe keeps the original's lack o' enemy hops e'en in Lost Levels, e'en though Lost Levels' levels were built based on it. This makes some parts way mo' ridiculous than any part o' the Famicom or All-Stars Lost Levels had — it feels like you have to do some kaizo trickery to get through them.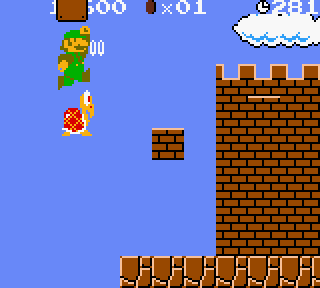 For instance, in 8-2 there's a brick you have to hit to make a beanstalk come out which you need to climb to beat the level; but it's positioned in a way where you're s'posed to jump on a convenient Paratroopa under it. But you can't in Deluxe, 'cause the programmers fucked up. @ 1st, the only way I figured out how to beat this was to be small @ this point & run & jump under it @ a certain point — if you're big, your face will bump the brick & you'll fall into a pit. Now, the trickier part is that you need to be big to break bricks & reach a pipe earlier to get here. I only happened to luckily stumble on the fact that I can break the bricks & then have a Buzzy Beetle fall on me so I become small after breaking the bricks to beat this level. Later I found a simpler, but trickier way to do it by running & jumping onto the Paratroopa when it's just near the block @ a certain spot so you can squeeze 'tween the 2 & bump the block, while hopefully getting 'nough air to reach the other side. I had to be big to do this, as every time I did this I got hurt by getting pressed into the Koopa in a strange way as I bumped gainst the brick.
You vs. Boo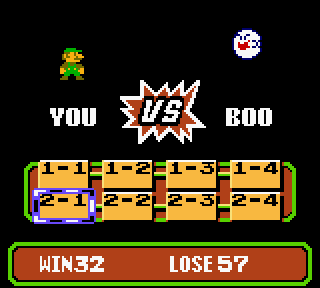 I have a lot o' nostalgia for the "You vs. Boo" race, but I have mixed views 'bout actually playing them. It's sometimes an addicting challenge to see how much you can beat your earlier times & see if you can unlock a better boo to race gainst, sometimes infuriatingly cheap. & they're all trial-&-error gameplay, as you need to know 'head o' time what state a switch block will be when you get to it to act 'head & minimize delays.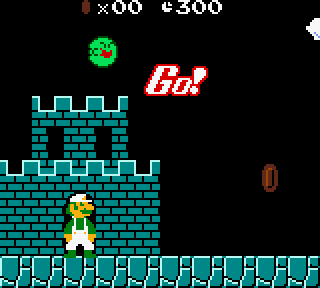 The levels with timed blocks are all right, as they're a'least consistent. The only exception is the last level, which is long, full o' spike traps, & has a cheap part @ the beginning where you have to know 'head o' time how it's setup to avoid stopping or getting hit, as you have to hit 2 switches before you e'en see a spike pit that requires them to be hit.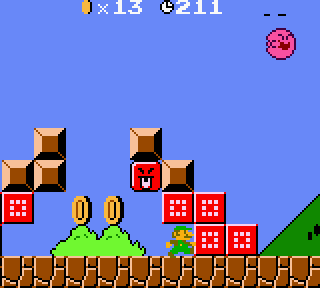 The levels with the auto-switching blocks are some o' the worst, however — which ironically includes the 1st level, which is maybe the 2nd hardest level after the last. This is 'cause Boo is a cheap asshole, who, in addition to being able to fly through everything, can switch blocks whenever they want, which can fuck you o'er gainst your control. For instance, the 1st level has a few places where there is a wall o' switch blocks past a switch block. If the boo hits the switch right after you pass it, you have no choice but to go back & hit the switch 'gain, slowing you down so much that you've probably already lost the race. Thus, it feels like e'en if you play well, you still need to be lucky to do well. Add to that an e'en worse camera than in classic mode: @ the start o' the 1st race level, Mario or Luigi reach the right side o' the camera before it gets the idea that maybe it should move 'long with them, perfect for making me run into a pipe @ the start dozens o' times.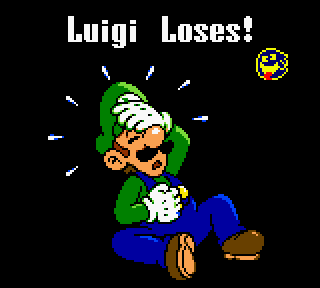 It's not like you accomplish much in this minigame. The best you can get for beating races is unlock newer colors o' boos, which are harder to beat. You start with the standard white boo, then unlock a lime boo, a pink boo, & then the elusive Black Boo with a neon yellow outline, who apparently moves as quickly as your fastest time. It's cool to unlock, & e'en beat the Black Boo, in a level; but a pain in the ass. They don't e'en give you a photo or something for doing so, either. Finding Black Boo is surely mo' worthy o' celebration than finding a 1-up Mushroom in a hidden block.
The Photo Album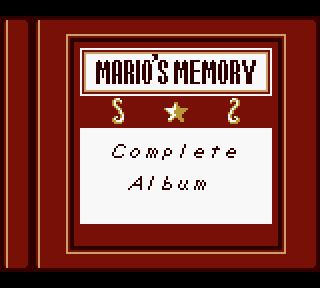 The Photo Album is sort o' like an early version o' an achievements system, while also acting as a way to try to get people to buy the Game Boy Camera by offering a way to print the photos. The 1st page o' photos were big medal award photos you got for major accomplishments: the Mario Award for beating classic mode, the Bowser Award for beating the star levels o' classic mode, the Peach Award for getting all the medals in all levels in Challenge Mode, the Toad Award for getting a million points total in high scores in Challenge Mode, & the Yoshi Award for beating Lost Levels. I always found it bullshit that Luigi doesn't get an Award, e'en though Lost Levels is heavily associated with him. ¡That dumb horse Yoshi isn't e'en in Lost Levels! ¡What the fuck?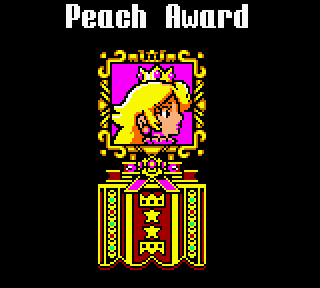 You also get photos for minor accomplishments, such as finding a beanstalk, getting fireworks, or playing multiplayer with somebody & using that weird infrared link thing the Game Boy Color had, the latter 2 o' which are impossible to get in the Virtual Console version. Great job, Nintendo. Some are redundant: you get a small photo for beating classic mode, in addition to the big Mario Award photo; you also get a small photo for getting the red coin, score, & Yoshi egg medals in all levels, each.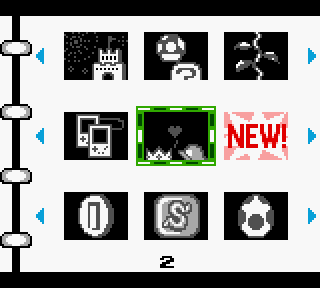 In fact, this game has a major glitch wherein if you get the last o' 2 types o' medals @ the same time, you get fucked out o' a small photo. Back when this game 1st came out, Nintendo went far 'nough to offer you the chance to send in your cartridge so they can just hack the lost photo into your save — a particular primitive form o' patching out a bug. This bug still exists in the Virtual Console version; but now Nintendo just tells you to suck a dick if you ask them to fix it.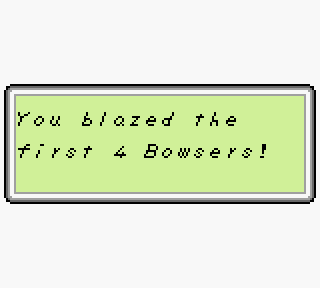 You also get a photo for each enemy type you kill & 1 for each castle's Bowser when you kill them with fire — so long as they're on screen when they die. For a long time I thought this game had a glitch where sometimes killing Bowser didn't give me their photo, till I realized 'twas 'cause I was a spineless wuss who hid far 'hind & fireballed Bowser to death from offscreen. You have to see Bowser turn into his "true form" to get the photo.
Challenge Mode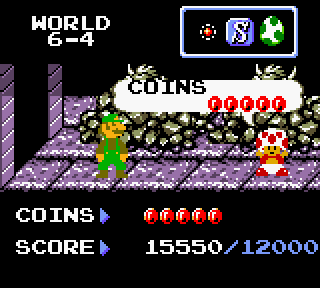 But the most compelling mode is Challenge Mode, which challenges you to collect 3 medals in every level. ( You can only try levels you've beaten in classic mode, in any order you want ). There are no lives or game o'er, but you can't get a medal 'less you beat the level you're trying. The 3 medals are the red coin medal, which you get for collecting 5 coins hidden in the level; the score medal, which you get for matching or beating a chosen score when you beat the level; & the Yoshi egg medal, which you get for finding a Yoshi egg hidden in an invisible block somewhere in the level.
'Nother challenge Challenge Mode offers is a total score counter @ the bottom, which holds the sum o' high scores you have in all the levels. Get 1.2 million or mo' points — which is mo' than all the high scores needed to get the score medal in all levels combined, so you can't just get all the score medals to get it — & you get a Toad Award photo in your album.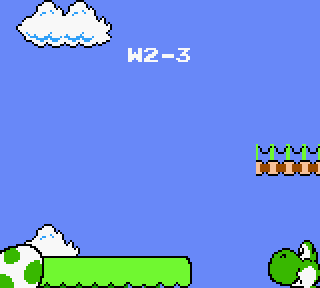 Depending on the level, either the red coin or Yoshi egg medal are the easiest to get. The Yoshi egg medal is only challenging in terms o' finding it, which could be hidden anywhere. However, when you find a'least 1, — which is made easy by the fact that the manual that came with the game revealed where it is in the 1st level — you unlock a roulette that shows you the screen o' a random level where it's hidden. I have clearly played this game too much, as on a recent playthrough I have yet to need this roulette. ¿Who needs math knowledge when you can memorize where all the Yoshi eggs in a video game are? The red coins are ne'er in hidden blocks, but are sometimes hidden in ?-blocks or bricks. Worse, some are hidden in multi-coin blocks & make you get a'least 10 coins in those blocks to make it pop out. If you hit a multi-coin block, but not 'nough times, you're permanently screwed out o' that coin & have to restart the level.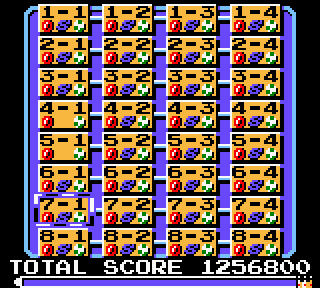 But the true challenge is getting the score medal on each level. The scores they ask for can seem ridiculous for early players — indeed, Nintendo must've found them ridiculous, as Nintendo lowered many o' the levels' required scores in the Japanese version ( for some reason, this game was released in the West 1st ). You have to play near optimally: maximize the enemies you kill for max points ( hint: kick every Koopa you find ), triple-hop Goombas for exponential points, get all the powerups & the Yoshi egg, waste as li'l time as possible, & make damn sure you hit the top o' the flagpole & get 6 fireworks ( hint: start running from the leftmost edge o' the top o' the stairs when the timer ends @ a 9 ). If this isn't 'nough, you can try kicking a Koopa shell gainst a wall & jumping on it & kicking it 'gain as it comes back repeatedly for all your excess time to maybe get some extra points. Bopping a Koopa & kicking it gives you 500 points, so this can be a nice way to rack up points, but requires consistent timing.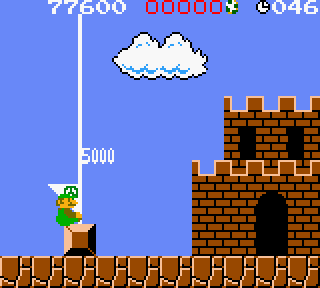 I do truly enjoy the score medals in this game, though. It forces you to analyze levels critically for ways to optimize points. ¿Are those coins worth the time it'd take to grab them? Coins & game seconds are both worth 100 points, so if it takes mo' than a game second per coin, the answer is no.
Though, thanks to them not having a flagpole to worry 'bout, & usually not having many opportunities for gaining points, being so linear, castle levels are e'en easier than normal levels for getting the medals than they are in classic mode.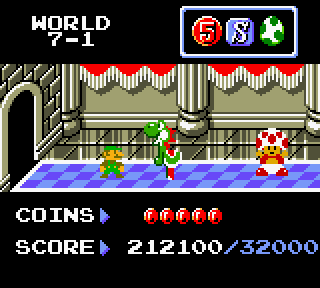 There's a glitch that only David Wonn in his amazing glitch website e'er mentions, wherein you can rack up quite a lot o' points in challenge mode. Usually, if you try the Koopa-hopping trick on the staircase, you'll rack up point gains up to 8,000 points before the enemy dies. However, the programmers messed up & saved the # o' points you get so that if you stop after getting 4,000 points & then let the shelled enemy go to the bottom & do the hop & kick them gainst a wall repeatedly trick I wrote 'bout earlier, 'stead o' getting 400 points per kick, you get 5,000 points per kick ( that is, so long as you jump on the shelled enemy as you kick it; otherwise, it seems to just give 400 still ).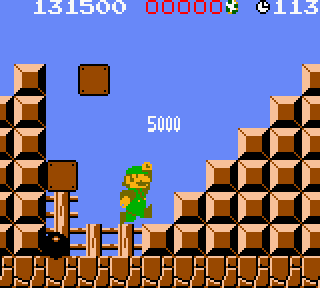 However, if you can pull this trick off well, you're better than I am. It just so happens that every staircase with a falling shelled enemy has li'l room near it to kick the enemy's shell & bop them 'gain without getting hit or permanently losing the shell. Wonn lists 7-1 as the easiest level to do this in, which is pure bullshit, as that level gives you a 3-block space in which to kick the Buzzy Beetle, 1 block o' which has an invisible block 'bove it to block your jump. The easiest is 1 he doesn't list, 5-2; & e'en that only gives you 5 or 6 blocks o' space, & if you miss once, you lose the Koopa shell.
Wonn also claims you can get o'er 5 million points with this trick, but I don't see how, 'less he found many levels that can use this trick. Using save states with this trick in 7-1, I was able to rack up 'bout 200,000 points with very li'l extra time left on the clock when beating the level. That is, indeed, a lot; but you'd need to be able to do that in almost every level to get mo' than 5 million points total.
I should point out that Super Mario Bros. Deluxe's score & red coin challenges were the main inspiration for the gem & time challenges for my game, Boskeopolis Land.
Vs.
This is just "Boo vs. You" but 'tween 2 players linked together with a link cord.
Records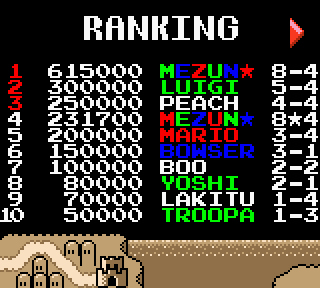 Super Mario Bros. Deluxe saves your high scores for Classic mode, for the regular or * levels. As mentioned, getting mo' than 100,000 points beats Boo's score & unlocked "Boo vs. You" & getting mo' than 300,000 points beats Luigi's high score & unlocks "Super Mario Bros. for Super Players", or "Lost Levels".
If you're playing on the original Game Boy Color, you could use that stupid infrared square @ the top o' the system to trade scores. Why they made this require that dumb thing 'stead o' just the regular link cord, which does work for playing a Vs. game, is beyond my comprehension, other than that Nintendo wanted to ruin this game's longterm playability for the sake o' advertising a gimmick nobody cared 'bout.
Toy Room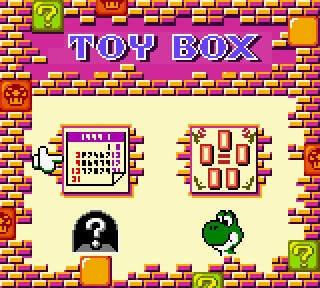 This is where Nintendo threw a bunch o' random shit they made when they were procrastinating adding worlds 9-D to "Super Mario Bros. for Super Players". It sort o' reminds me o' a primitive version o' WarioWare Twisted's souvenirs.
Calendar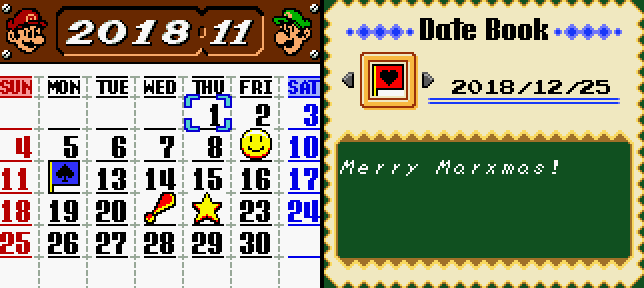 A rudimentary calendar that let's you mark days with messages & an icon.
Why they added this to this game o' all things, & not any later Mario remakes, I'm not sure; but my theory is that it's related to abandoned plans Nintendo seemed to have for making a "gaming smartphone", which would have this game built-in.
Fortune Telling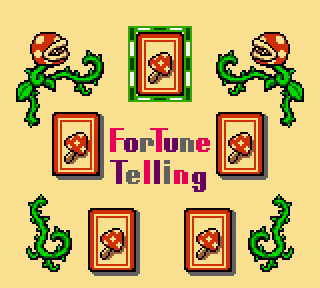 Pick a card out o' 5 & get a random fortune-cookie message with a label telling you how lucky you are & a picture o' a character that corresponds to that luckiness.
Extremely Unlucky: Bowser
Unlucky: Koopa Shell
Lucky: Luigi
Very Lucky: Mario
Extremely Lucky: Peach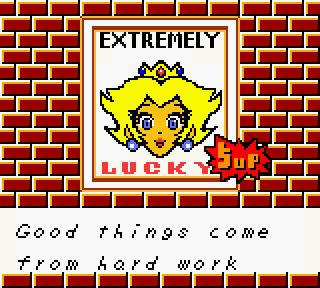 This otherwise pointless minigame does have 1 significance to the general game: if you find Peach's "Extremely Lucky" fortune, a "10up" message pops up. From then on any new save you make for Classic Mode or "Super Mario Bros. for Super Players" will start you with 10 lives 'stead o' 5.
I don't know how the "algorithm" for determining what fortune message you get relates to the luckiness level you get, if they relate @ all, but oft I'd find messages I'd get don't sound as lucky as they claim to be.
With as many times as this game lets you make your own messages for things, it'd be nice if you could make your own fortunes.
I present to you the best o' the fortunes I received: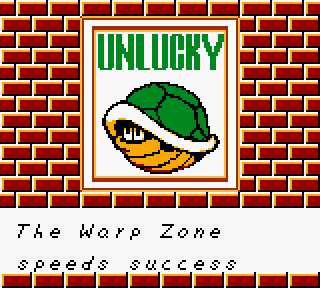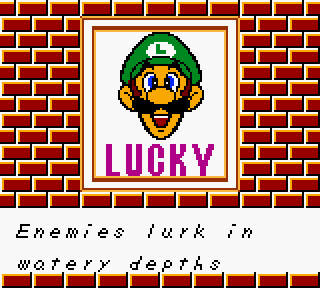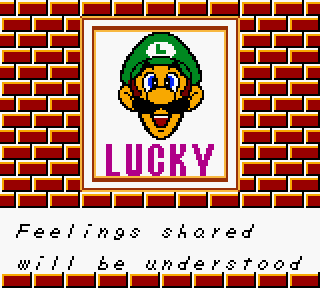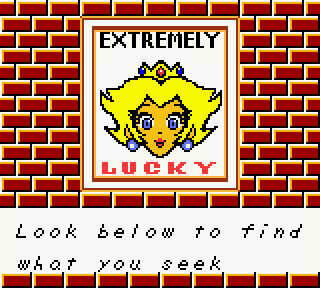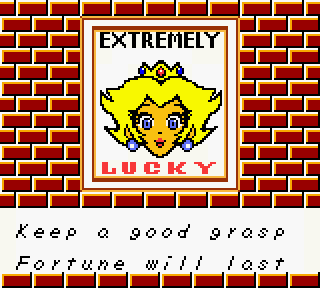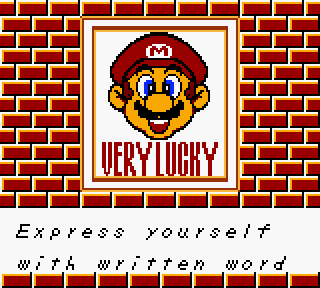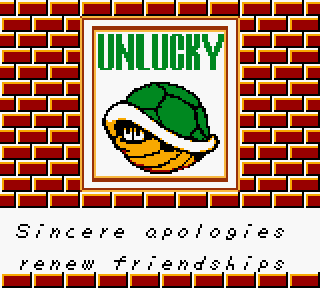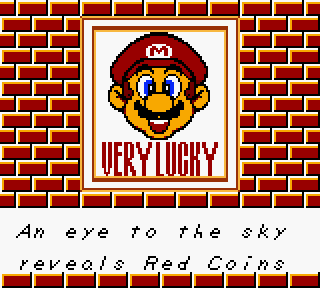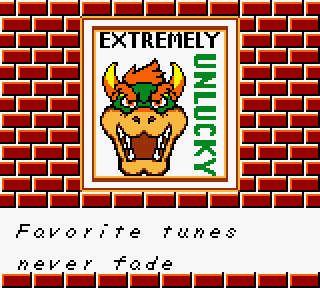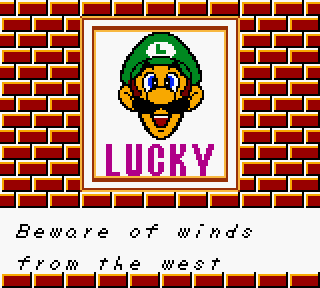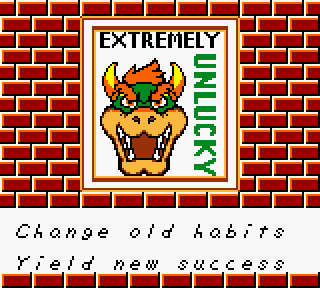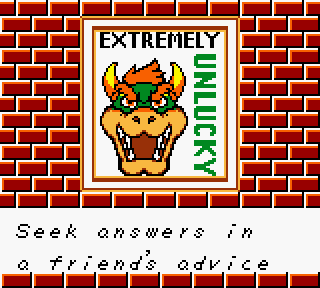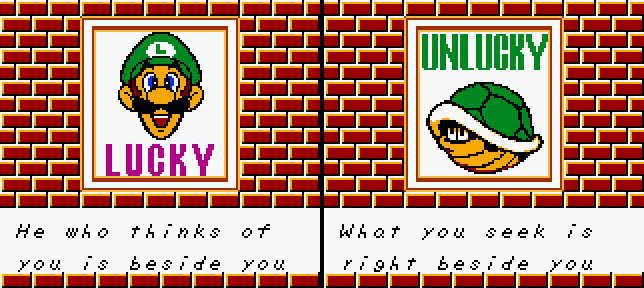 Yoshi Is Here!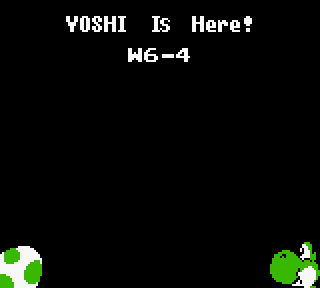 This is the aforementioned roulette that shows the general vicinity o' a Yoshi egg in a level for Challenge Mode.
Mystery Room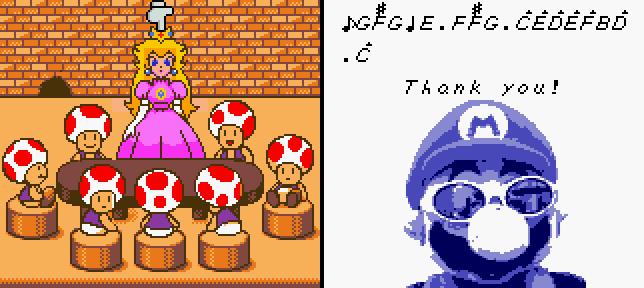 This is a table that fills with Toads & 'ventually Peach as you rescue them in Classic Mode. For each 1 o' them you get weird pictures you can make messages for & print if you had a Game Boy Printer. These images range from blown-up grayscale pixel-art o' Super Mario Bros. sprites to Nintendo logo banners to pixelated versions o' official art for this game, to weird splash images you can set to replace the title screen splash image.