I received a wondrous omen yesterday when I decided, out o' curiosity, to make my yearly peek into DailyKos & was greeted with this powerful combination: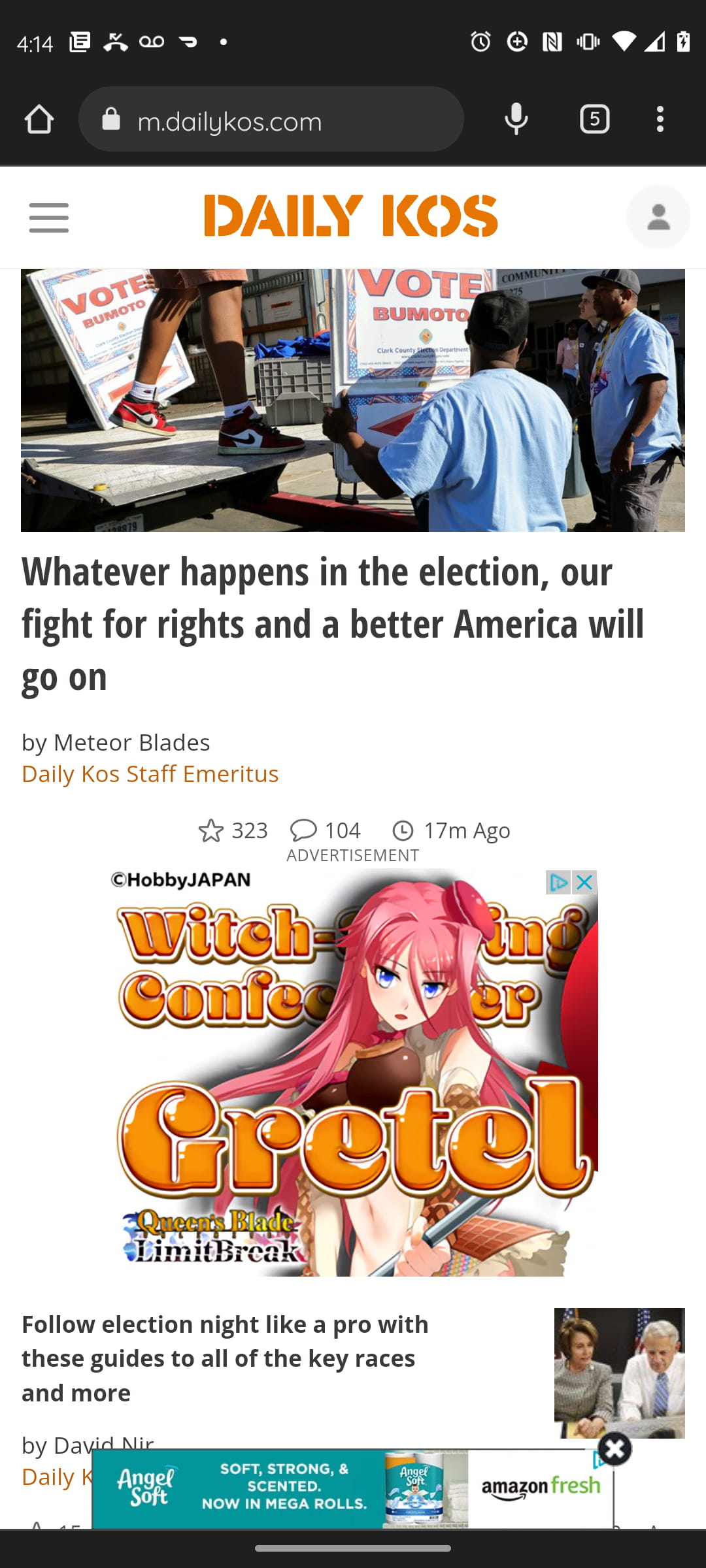 I knew it'd be a suckerpop anime girl who would finally save US democracy.
All the signs indicate that the forewarned red tsunami — not the sexy communist 1, but the fake fascist 1 masquerading in blood — will not come, but that the house will turn red, but the senate may stay blue. To be truthful, I've mostly ignored the polls, since polls ain't shit, & e'en mo' than polls, I've ignored armchair-theorizing pundit hacks who mistake their own petty hatred o' Democrats 'cause Sanders, given a role in the current Democratic regime, was robbed o' his rightful primary victory lost 'cause most young people are dumb & lazy & don't bother to vote in primaries with the general sentiment of ordinary Americans who don't give a rats ass 'bout Sanders or socialism & probably blame some vague form o' Sorosian socialism they were told is causing all this inflation by their favorite YouTube channel or they mistake the general sentiments of ordinary Americans as being sick o' all this mean civility 'tween mildly patronizing Democrats & murderously crazy Republicans, ignorant o' the fact that most Americans don't give a shit, they'd probably love to see government officials bash each others' brains out with hammers. If these liars truly believed in bipartisanship & bothsidesism, they would advocate for sacrificing Mitch McConnel's wife to the hammer, too, but as it turns out, e'eryone lies when they say they support bipartisanship 'cause, as it turns out, bipartisanship is the dumbest thing in the world.
Much mo' fascinating is the statistic I found that 60% o' Americans have election deniers on their ballots, which is to say that only 60% o' candidates have finally reached enlightenment & have realized that till the Engelsist Magical Socialist Party's candidates win e'ery election, e'ery election is a fraud. I can only assume that when the deniers win they'll attempt to insurrect themselves, since surely they wouldn't only deny election results where they don't win — no, not my honest pals, the Republicans.
Daily Kos tells me that the race 'tween Patty Murray & Smiley here in Washington was expected to be a tossup. Considering Smiley was a rando nurse whose blurb sounded like it belonged to an airport novel, not a politician, that is horrifying to hear. Luckily, like many things, the pundits turned out to be wrong & we can forget that Smiley e'er existed.
Other fun races — ¡wheeee!:
The 1 e'eryone had been looking @, to the point that apparently a New Yorker tried to vote for Dr. Oz: unsurprisingly, real candidate whose only major electoral flaw was having a stroke, & thus having their clearness o' speech only slightly better than the average Republican, beats clownshow TV doctor.
Famed nutjob Lauren Boebert who was infamously accused o' s'posedly leading tours thru the capitol before 1/6 lost to who cares, all that matters is that she lost.
Many are noting that wacky Trump-favored candidates like Oz are losing in places where a sane Republican would've won, which leads me to reconsider e'eryone's claim that Democrats deliberately funding these crazy candidates was typical bad Dem strategy.