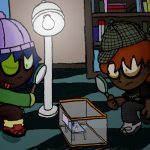 Autumn wanted to ask Dawn how she e'er convinced her to set up a detective agency till she remembered that she already knew how, having been there @ the time. Then she took a sip o' her coffee.
<This'll get you out from under the smothers o' your covers & using your calculator mind for something refreshing for a spin. That's the problem: you've been doing stealing so much that you need to try something else for a while>, Dawn said, as if reading Autumn's mind, which would be a rude thing to do.
Autumn nodded. Autumn could see why Dawn would think that way, since Dawn tried a million different things & ne'er finished any o' them. Since Autumn knew this, she wasn't sure why she thought 'bout it, much as how she wasn't sure why she wasted time thinking the things she'd already thought multiple times — "Give it up, chump", "¿Why am I doing this thing I'm going to keep doing e'en after asking?", & "Perhaps I should stop being a rancid asshole this season".
Autumn stared @ the rotary phone with 1 hand tapping the rim o' her coffee mug & the other tapping the table. She didn't ask why the phone was rotary, tho, e'en in her head. 'Twas better not to ask such things o' this devilish realm their cruel literary god placed them in like slaves. She didn't ask why everything was grayscale. For 1, it wasn't grayscale, but a soupy pea green. She didn't ask how she knew what color everything was when everything was just words in windows.