Accompanying music: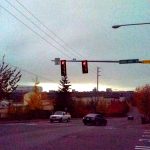 Ich möchte dich festhalten —

weicher Atem, schlagendes Herz;

während ich in dein Ohr flüstere,

ich will dich verdammt auseinander reißen.
You gorgeous gothic autumn withered firs
put on the perfect play for these uneasy zephyrs
round this o'ercrowded theater I attend.
Marvel as I push past
too many poems for this tired eye to render —
crowd maple feathers with their rockin' letters
crying for 'ttention on these building signs &
uncomfortable cars, their neck-ache news screws tightened —
akin to pallored skin on fretting lightning —
a swoonful, sure, but omens ill inviting
as the smoke spread by my unspoken words
creep up to kill the sky without a thought.
Too much abundent love will smother us
with floods o' sun. But I don't dare stop —